The World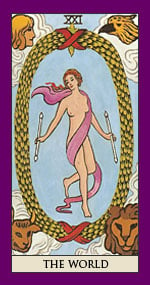 Keywords: goal, realization, expansion, world travel, fulfillment!
Astrological Correspondence: Saturn
The World card, regarded as the most fortunate card in the major arcane, is a symbol for all that we can accomplish on our path through life, for perfection, beauty, success, and public recognition. This is where the cycle ends and begins again. Happiness and wholeness are key elements that provide a sense of physical, emotional, and spiritual well-being. Signaling accomplishment and reaching of one's goals, the World card makes us aware that in completing this cycle we are ready to embark on a new adventure. We are prepared and preparing for another journey with higher awareness, knowing that active engagement and service are called for. In a negative situation, this card can point to major obstacles in our path, to setbacks, to loose ends we have left untied as well as lack of commitment.
Courtesy of Witches of the Craft