Temperance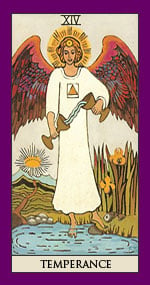 Keywords: providing aid, healing, concentration, moderation!
Astrological Correspondence: Sagittarius
The angel between heaven and earth blending different elements into a harmonious substance represents a bridge between polarities, like heaven and earth, masculine and feminine, beginning and end. The combining of varied substances serves as imagery for the merging of diverse forces to create a new whole for cooperation, coordination, a harmonious balance, looking for a middle ground, achieving healing, and recovery. Temperance signifies that moderation is necessary to regulate passions and maintain harmony in relationships, and to build tolerance and cooperation in groups. In a negative situation, Temperance characteristics are indecision, inconstancy, excess, obsession, and lack of control.
Courtesy of Witches of the Craft