Daily Tarot Love Card for the Day
The Lovers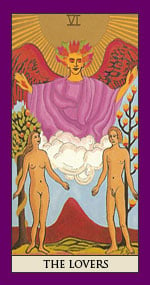 Keywords: choice, decision, love, communication, inspiration (ideas from above)!
Astrological Correspondence: Gemini
The Lovers card is representative not only of crucial life choices, but also of lovers, couples, and other partnerships, like business partners, siblings, and friends. The angel between a woman and a man, depicted on this card, symbolizes the struggle of deciding to follow one's heart versus one's temptation or obligation. The Lovers card symbolizes the choices that must be made to progress toward higher self-awareness; choices also reflect emotional values, indecisiveness, hesitation, and our fears about making wrong choices. This applies not only to love relationships – it is applicable to any relationship in which people are drawn together, even a casual one. It's the card of uncertainty!